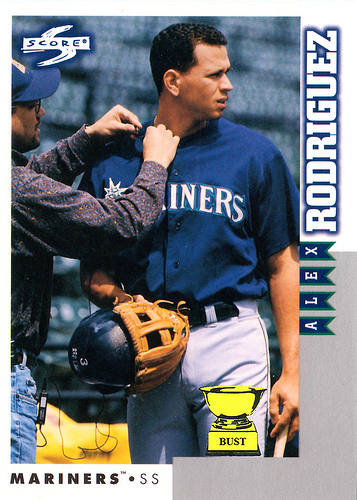 Name:
Alex Rodriguez
Team:
Seattle Mariners
Position:
Shortstop
Value of card:
$275,000,000 (
Rodriguez's
current contract) x 0
Key 1997 stat:
Zero accusations of performance-enhancing drug use
Top 10

reasons

Alex Rodriguez

was getting miked up:
10) High-energy pop performance with former paramour Madonna.
9) TV spot for the D.A.R.E program.
8) Pregame chat with the Texas Rangers because, uh — no reason, Mariners front office.
7) Session with kids on how to modify a batting helmet and mitt to save time between innings.
6) In-game analysis for Fox during a drug suspension.
5) Commercial to pitch his A-Rod Custom Fly-Fishing Rods.
4) He's not getting miked up; that's a polygraph machine.
3) On-air interview with Pompous Male magazine.
2) Two words: Tom Emanski.
1) Grand jury testimony