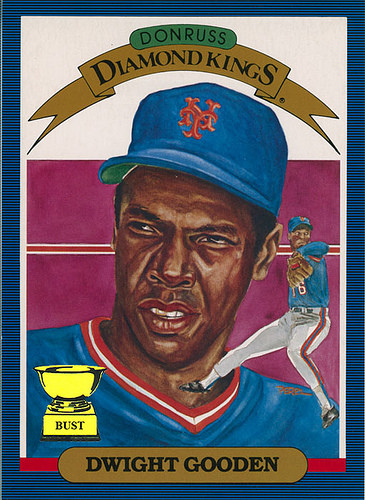 Name:
Dwight Gooden
Team:
New York Mets
Position:
Ace
Value of card:
One big apple, filled with worms
Key 1985 stat:
Constant disgust
Yep, we've got more of 'em:
That's right, Internet, your
least
favorite subset is back. Sure, we've already posted enough
Diamond Kings
to stuff a binder, but this week's seven illustrations make us wonder if the athletes featured in them are having some sort of medical emergency. So, to borrow an idea from
Grandma Milhouse
, go ahead and dial 9-1 while we investigate; then, if we say so, dial 1 again.
Is Dwight Gooden having a medical emergency?
Upon further investigation, Doc is not having an embolism; he's just angry. Wouldn't you be? I mean, if you were painted with a laser beam going through your ears, a miniature version of yourself digging his cleats into your own neck, and your mouth at a completely different angle than the rest of your face, you can't tell me you'd be happy about it. So forgive Doc if he's a little torqued off. (Just don't tell him about the two little white lines around that laser beam.)