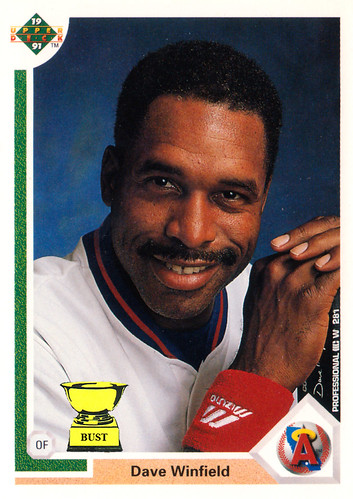 Name:
Dave Winfield
Team:
California Angels
Position:
Outfield
Value of card:
Million-dollar smile
Key 1990 stat:
One attempted steal (of your girlfriend)
Dave Winfield's dating profile, circa 1990:
Screen name:
WinfieldOfDreams_12
Age:
39
Height:
6' 6"
Weight:
220 pounds (all muscle, baby)
Hair color:
Black
Hairstyle:
Awesome
Ethnicity:
Minnesotan, originally
Want children?
I could use a bat boy
Best feature:
These pearly whites
Smoke?
The occasional fastball
Drink?
Gatorade
Religion: I believe in Angels
Seeking:
The ladies
Location:
Los Angeles? Anaheim? Orange County? One of those
Her body type:
Beach bod
Her ethnicity:
Tanned
About me:
Hey girl, Winny here. After too many seasons in the cold (and cold-heartedness) of New York, I'm back in SoCal, ready to heat things up. Once you're done getting lost in my eyes, drop me line, and we'll see if you can help me work on my power stroke. After all, my jersey may say I'm an Angel, but I'm a real demon once the lights go out. Rrrowwrrr!