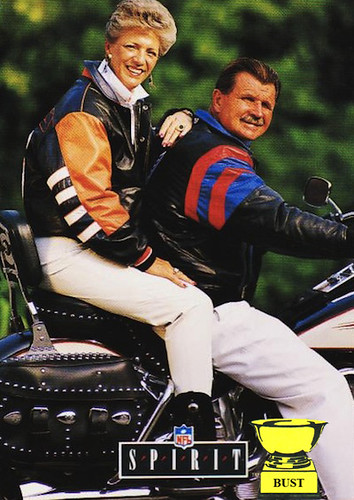 Names:
Diana Ditka, Mike Ditka
Teams:
Biker Mamas, Chicago Bears
Position:
Coach's wife, head coach
Value of card:
Two pairs of white pants (same style) for the price of one
Key 1991 stat:
182,290 bugs in teeth (combined)
Clearing up some rumors about Mike Ditka and his lovely wife, Diana:
Diana Ditka does not use the phrase "riding the hog" when talking about motorcycles. That's the phrase she uses when discussing her married sex life.
Mike Ditka is not wearing David Puddy's 8-ball jacket from "Seinfeld." He's wearing an even more ludicrous jacket.
Mike Ditka does, in fact, take his wife everywhere on his motorcycle. But she keeps finding her way home.
Mike Ditka does, in fact, need to wear a motorcycle helmet for safety. Diana does not her hair serves the same purpose.
This is not Mike Ditka's most embarrassing moment. That would be this video of him yelling at a bunch of kids about flushing the toilet (preferably after putting this card in it).