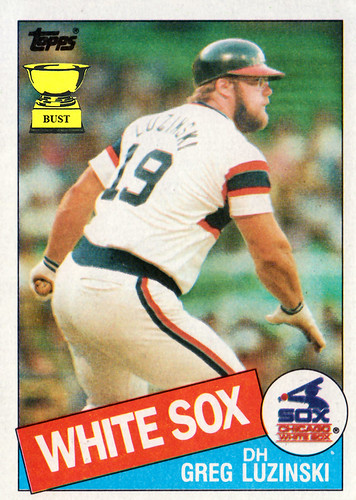 Name:
Greg Luzinski
Team:
Chicago White Sox
Position:
Designated
brute
hitter
Value of card:
We're thinking at least a few hundred bucks
Key 1984 stat:
65 bears wrestled
Welcome back, Mr. Luzinski:
It's a fact known to only a few people (because we only have a few readers): Greg Luzinski, the bearded wonder who clubbed home runs for the Chicago White Sox in the mid-1980s, was the
first Baseball Card Bust subject
. We called him the Kodiak Brute, saying he "spent his formative years wrestling brown bears and chewing on tree trunks." Looking back five years, we couldn't have been more correct. When Luzinski saw a hive teeming with bees, he'd stick his face in it to slurp down the honey. When he'd take a dip in a river of raging rapids, he catch his salmon lunch in his teeth. When he'd have to go, you guessed it, he'd go in the woods. We salute you, Greg "The Kodiak Brute" Luzinski. You're the perfect ambassador for such a prestigious blog.