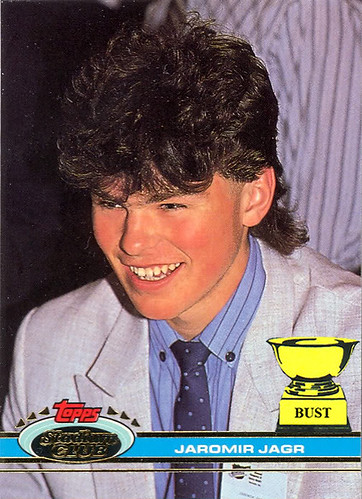 Name:
Jaromir Jagr
Team:
Pittsburgh Penguins
Position:
Right wing
Value of card:
An empty bottle of Jager
Key 1991-92 stat:
Singlehandedly kept four Pittsburgh-area hairdressers in business
Scouting report on Penguins rookie hotshot Jaromir Jagr:
"He looks good on the ice, but not nearly as good as he does in a linen suit. ... In the running for the Calder Trophy, but he's already swept mullet competitions throughout the Great Lakes region. ... His stick-handling so far is outpacing his ability to handle a clip-on tie. ... Will likely never suffer a concussion, given that under his helmet, he has another helmet. ... Tastes great when mixed with Dr Pepper. ... Overall, this kid's got a very high ceiling
and with that haircut, he's gonna need it."