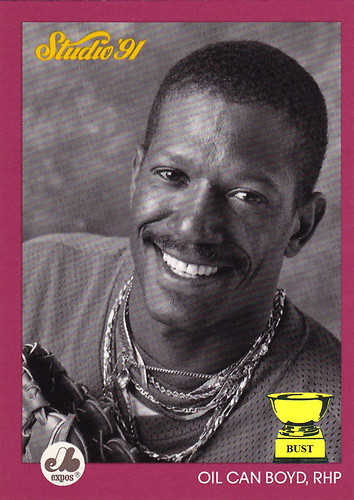 Name:
Dennis "Oil Can" Boyd
Team:
Montreal Expos
Position:
Pitcher
Value of card:
A broken spark plug
Key 1990 stat:
14 tons of gold purchased
Transcript from a late-night cable TV commercial circa 1990:
"Hey everyone, Oil Can Boyd here to let you know that there's a valuable resource in your home. No, it's not your children; it's your unwanted gold! Tangled gold chains, broken gold watches, loose gold teeth; you may not want them any more, but your old pal Oil Can sure does — and I'm willing to pay top dollar for them. Here at Oil Can 4 Gold, I'll melt down your unwanted jewelry and turn it into hundreds and dozens of thin gold chains that I can wear on the mound. I know what you're saying: 'Oil Can, you already have a Zales' worth of crappy necklaces; what can you possibly want with more?' Look, that's really none of your damn business, is it? You get the money, Oil Can gets the gold, everyone goes away happy. Send me your freakin' gold!"