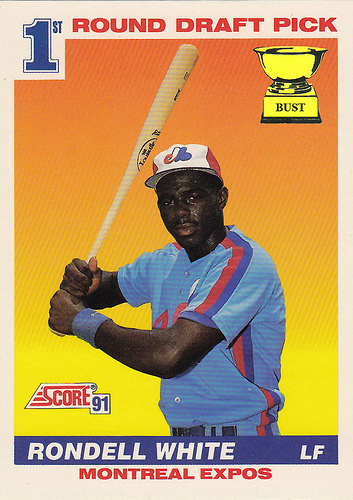 Name:
Rondell White
Team: Montreal Expos
Position: Left field
Value of card: 1 liter, Canadian maple syrup, regurgitated
Key 1990 stat: 14 ounces of face sweat
Expos' scouting report on first-round pick Rondell White: "Never seen him play, but looks good posing in front of the sun. ... Doesn't mind wearing a hat that has been sat on for six weeks. ... Says Montreal is his favorite city in "America's Hat." ... Despite last name, is not Caucasian. ... Wears wristband on arm, shin and, um, well, let's just say he doesn't need to wear a cup. ... May or may not have eyebrows, eyelashes and hair. ... No one wears a blue belt better. ... Has a plus bat, but a minus Photoshop bat. ... Recycling his face sweat could cut in half field-watering costs. ... Has said he won't be an Expo; he's a Now-spo."