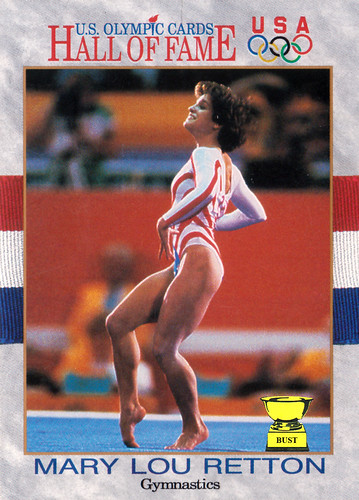 Name:
Mary Lou Retton
Event:
Gymnastics
Medal count:
1 gold, 2 silver, 2 bronze
Value of card:
Its value is not recognized in the Eastern Bloc nations. Or anywhere, really.
Key 1984 stat:
Upper legs the size of Greek columns
Little Miss Perfect:
Mary Lou Retton was America's sweetheart in 1984 after becoming the first woman from the U.S. to win the Olympic gymnastics all-around title. Of course, everyone has secrets. Here are a handful of things that might make you change your opinion about this "innocent" creature:
In 1983, she found $5 on the ground and didn't turn it in to lost and found
In middle school, she wrote in some of her textbooks. In ink!
She has four children, which means she definitely did you-know-what with a boy several times.
She probably had to kiss a communist or two on the cheek during her career.
In 1993, she was in an episode of "Baywatch," aka "Smutwatch."
Well, just look at that outfit!