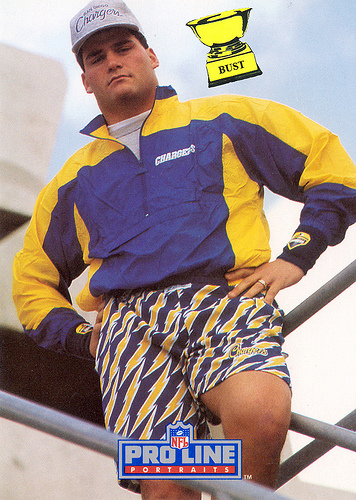 Name:
Burt Grossman
Team:
San Diego Chargers
Position:
Defensive end
Value of card:
Bupkis
Key 1991 stat:
Four pairs of lightning-bolt shorts owned
Burt Grossman's online dating profile circa 1991:
Screen name:
NotSoGrossMan1
Age:
24
Height:
6' 4"
Weight:
270 lbs.
Hair color:
San Diego Padre brown
Hairstyle:
Behatted
Facial hair:
Waxed
Ethnicity:
Beach bro
Marital status:
Married
to the gridiron
Want children?
I would love a little Grossman
Smoke?
And ruin this babyface? No way.
Drink?
I've done a keg stand before.
Best feature:
Thighs
Seeking:
Hey laaaaaadies!
Her body type:
San Diego
Her ethnicity:
Tanned
Her interests:
Shorts, smooth skin, not making fun of people's names
About me:
Look, ladies, despite my name, I'm the cleanest man you'll ever meet. I don't tolerate a mess in my house
or on my body. Except for what's on top of my head, I'm completely hairless. I feel that this gives me a competitive advantage, both on the field and off. It makes me harder to block, but it also accentuates my muscular legs and the fact that my neck is wider than my forehead. So drop me a line and let's show each other some skin.