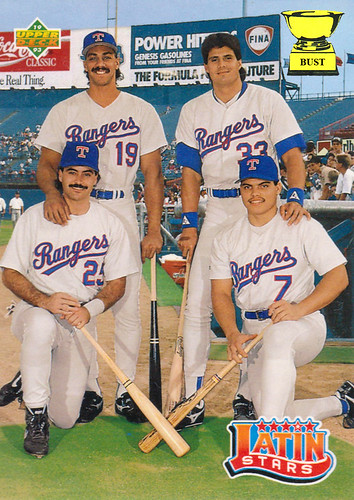 Names:
Rafael Palmerio, from left, Juan Gonzalez, Jose Canseco, Ivan "Pudge" Rodriguez
Team:
Texas Rangers
Positions:
First base, left field, right field and catcher, respectively
Value of card:
Four empty vials
Key 1992 stat:
Blue belts for everybody!
Four Latin stars enter (sorry, Julio Franco), only one can win in this Matchup:
Round 1:
Embarrassing lack of facial hair (Winner: Canseco)
Round 2:
Embarrassing lack of mullet (Winner: Rodriguez)
Round 3:
Fondness for wristbands (Winner: Canseco)
Round 4:
Gently caressing another player's neck (Winner: Gonzalez)
Round 5:
Smugness (Winner: Canseco)
Round 6:
Crossing the streams (Winner: Tie between Palmeiro and Rodriguez)
Round 7:
Biding his time before ratting out his teammates (Winner: Canseco)
Bonus round:
More prescient advertising slogan on the billboards in the back (Winner: "The Formula of the Future")
Final score:
Canseco 4, Rodriguez 1, Gonzalez 1, Palmeiro 0 (Ties: 1)
Synopsis:
All of these guys were accused of playing dirty at some point, but it was Canseco who outmuscled the competition on his way to victory. His tell-all book about this Matchup should be coming out any day now.