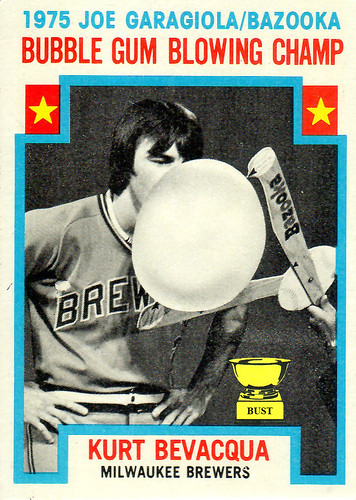 Name:
Kurt Bevacqua
Team:
Milwaukee
Bubbles
Brewers
Position:
Infield
Value of card:
See the shape of that
bubble
? Picture a number that's the same shape
Key 1975 stat:
467,908 pieces of
Bazooka gum
chewed (No, not at once.)
What an honor:
Everyone, everyone, stand up and let's give Kurt Bevacqua a hand. This is something special. In a sport that holds home runs and strikeouts in high esteem, we finally get a glimpse of true talent. Here is the man whose nickname was "Dirty," who batted .236 during his 14-year career with eight teams, and who overcame adversity and other cliches to win the prestigious, the hallowed, the
chewy
1975 Joe Garagiola/Bazooka Bubble Gum Blowing Championship. What does he win? How about a pair of Bazooka cardboard baseball scissors and measuring sticks, a lifetime supply of 6-year-old, granite-hard Bazooka
gum
and a real, military-grade bazooka? What prizes. But the real honor? Knowing no one else in baseball truly blows as much as he does.