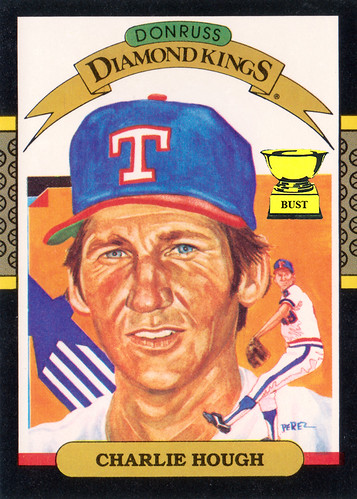 Name:
Charlie Hough
Team:
Texas Rangers
Position:
Old pitcher
Value of card:
A huff and a puff
Key 1996 stat:
52 bottles of Just For Men purchased
Hinting at retirement:
What's so scary about this Diamond King? Well, as usual, you've got your faceless tiny man in the corner
you'll definitely be seeing him when you close your eyes tonight. There's also the lesson in how not to apply self-tanning products that is Old Man Hough's face. That thing's streakier than the inside of his adult diaper. But perhaps the biggest can of nightmare fuel is that giant fork that Dick Perez has shoved in Charlie's back. Good lord, man, what did this old-timer do to tick you off? Either that, or you were trying to hint that it was time for Charlie to call it a career
stick a fork in him, he's done.