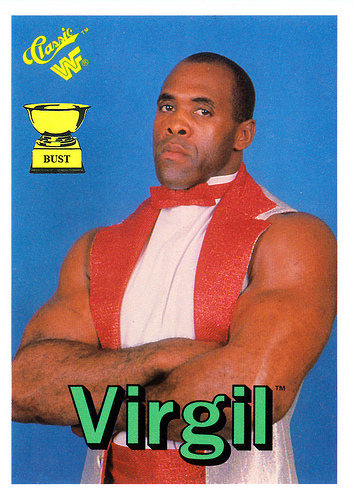 Name:
Virgil
From:
Pittsburgh, Pa.
Signature move:
Million Dollar Dream
Value of card:
One sleeve
Key 1990 stat:
Biceps twice as big as head
Down for the count:
The Bust is primarily a bad baseball card site (and a site for bad baseball cards), but we have occasionally featured other sports.
Soccer
,
hockey
,
tennis
and even
rowing
have made appearances over the years. So has
wrestling
just not the kind that offers monthly pay-per-view specials for $44.95. This week, we're righting that wrong and digging up some of the finest superstars the then-WWF had to offer in 1990. Good God almighty!
It's a pop quiz smackdown:
Which of these descriptions best fits the man on the above card?
(A) Virgil was a Chippendale dancer who never heeded management's advice that he should shave his arms.
(B) Virgil was an ancient Roman poet whose greatest works included the epic "Aeneid."
(C)
Virgil
served as a bodyguard for Ted "The Million Dollar Man" DiBiase, and was later known as Vincent and, somehow, Curly Bill.
(D) Virgil is the
loneliest man
on the Internet.
(E) All of the above.