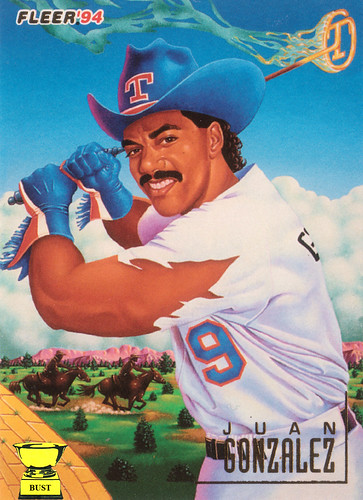 Name:
Juan Gonzalez
Team:
Texas Rangers
Position:
Outfield
Value of card:
A rusted spur
Key 1993 stat:
10-gallon hat
Of course this is a baseball card:
We've seen a lot of really weird stuff this week, but this card may take the cake. Calling this "art" may be a bit of a stretch, but here's our artistic interpretation of what's going on here. Juan Gone's gigantic blue hat likely represents his talent, further indicated by the big red "T" on it. The branding iron he's brandishing as a bat is symbolic of the fire and intensity with which he played the game. His mullet represents his belief that "business up front, party in the back" wasn't just a haircut, it was a way of life. The fleeing little chocolate horses and cowboys represent his hunger to dominate opponents, win a World Series and eat chocolate. His fringed cowboy batting gloves aren't really symbolic of anything
they're just stylish. And his shirt-ripping biceps? Hmm, what could they
indicate
?