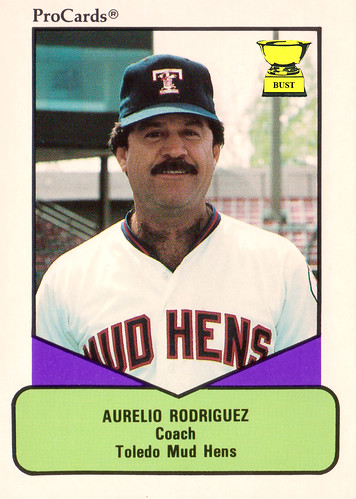 Name:
Aurelio Rodriguez
Team:
Toledo Mud Hens
Position:
Coach
Value of card:
Mud, no hens
Key 1989 stat:
Coached under a guy named
Wockenfuss
Fun facts about Aurelio Rodriguez and his chest hair:
When Rodriguez removes his shirt, you can see the Virgin Mary in that mat of manliness.
A slave to fashion, he kept his chest hair up that high so it looked like he was always wearing a bow tie.
He never needed to wear a coat or sweater.
As part of hazing, Mud Hens newcomers had to comb the crumbs out of Rodriguez's fur.
Aurelio Rodriguez fit right in in Toledo, Ohio.
Bonus not-making-this-up fun fact:
Rodriguez's card in the 1969 Topps set actually features a photo of Angels bat boy
Leonard Garcia
.