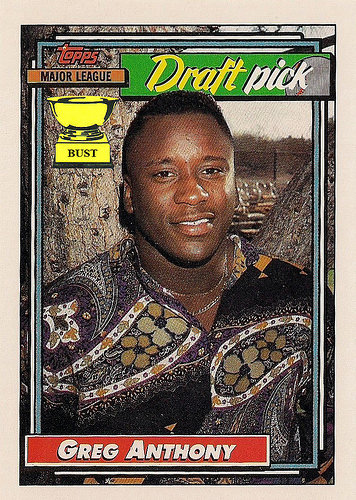 Name:
Greg Anthony
Team:
San Diego Padres
Position:
Pitcher
Value of card:
The dictionary page with the word "bust" on it, torn out
Key 1991 stat:
Always tried to blend into the background
San Diego Padres scouting report on draft pick Greg Anthony:
"He's got three solid pitches
by which we mean we need to limit his pitch count to three. ... He's very insistent that we change our uniforms to paisley. ... Plus-plus ability to pose in front of trees. ... Almost strangled himself with his own necklace a couple of times. ... Eats Vienna sausages by the case. ... It's always risky drafting a two-sport star, but he could pay off. Wait, this is UNLV's
Greg Anthony
, right? No? That's it, I resign."