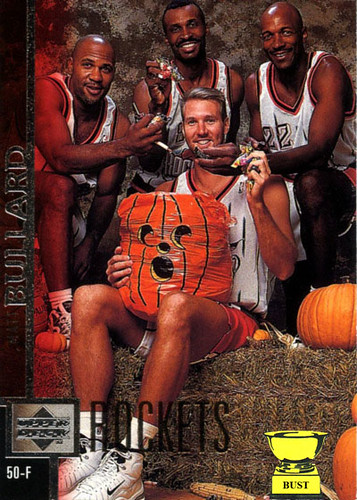 Name:
Matt Bullard, feat. Mario Elie, Eddie Johnson and Clyde Drexler
Team:
Ghoul-ston Rockets
Position:
Forward
Fright value of card:
Two open Pixy Stix
Key 1997-98 splat:
Ate 70 percent of his kids' Halloween candy
Trick or, well, not treat:
We don't have the words for how nonsensical this card is. Not only did Upper Deck decorate the set in a Halloween motif, they figured they should bring in three other players just for this photo. They even included an ear of dried corn on the floor. However, us investigative types at the Bust discovered that this was not the most absurd setting proposed by the folks at UD for this shoot. Here are a few of the ideas Matt Bullard turned down:
Bullard and Rockets coach Rudy Tomjanovich drinking milkshakes in the team whirlpool
Bullard and teammate Othella Harrington playing a game of Othello while dressed in costumes from the Shakespeare play "Othello"
Bullard and teammate Hakeem Olajuwon shirtless, riding horses bareback on a beach in Mexico
Bullard and teammate Charles Barkley eating all the candy in that bag. (Note: This was actually Barkley's idea.)
Card courtesy of
Fat Shawn Kemp
.