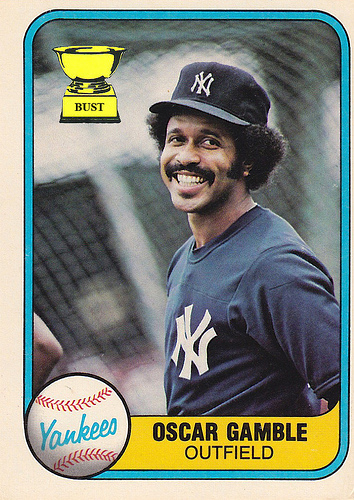 Name:
Oscar Gamble
Team:
New York Yankees
Position:
Outfield
Value of card:
$10 in the hole if you Gamble
Key 1980 stat:
26 teeth in a sensational smile
It's the Bust's biggest superstar:
Oscar Gamble was a good baseball player. He finished his career with 200 home runs and (mark of the devil) 666 RBIs. But he's best-known for being the subject of what is arguably the
hairiest baseball card of all time
. In the 1981 Fleer card above, Gamble has, it seems, matured a bit and trimmed down his famous 'fro to a manageable size. It might not look as good at the club, but the Yankees cap fits better. He's still rockin' an all-star mustache and enviable sideburns, and it appears he's happy with the more professional look. We here at the Bust respect Oscar's decision to clean it up, but when it comes to unique visitors on this laughable blog, anything other than the most-viewed 1977 Topps Traded afro spectacular is a gamble.