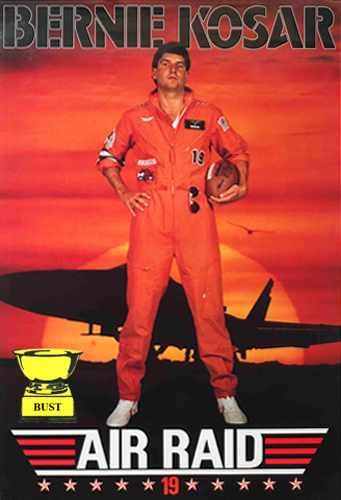 Name:
Bernie Kosar
Team:
Cleveland Browns
Position:
Quarterback
Value of card:
One bootleg copy of "Hot Shots! Part Deux"
Key 1992 stat:
42 times using an airplane bathroom
Fun facts about Bernie Kosar and the F-14 Tomcat fighter jet:
The F-14 for many years was the U.S. Navy's preferred fighter jet, capable of air superiority. Bernie Kosar for a few years was Cleveland's preferred quarterback, capable of air competency.
When not in action, the F-14 spends much of its time resting on the deck of an aircraft carrier. When not in action, Bernie Kosar spent much of his time resting his head on a bar, passed out.
The F-14 was capable of carrying up to six missiles to hit targets. Bernie Kosar usually needed more chances to hit a target.
The F-14 was the featured aircraft in the 1986 blockbuster "Top Gun," a movie that raked in millions. Bernie Kosar was featured in the 2012 sports documentary "Broke," about athletes who have spent or lost all their millions.
F-14 pilots wear flight suits that are designed to provide warmth, be fire-retardant and have lots of pockets. Bernie Kosar is wearing a prison jumpsuit with lots of patches glued to it and the collar popped.