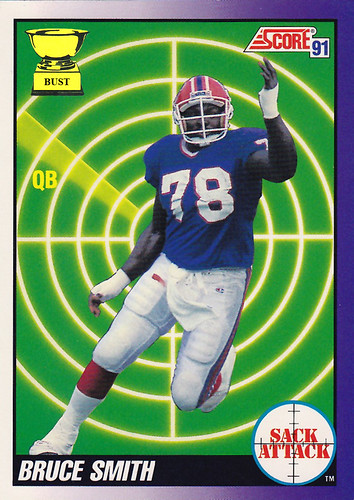 Name:
Bruce Smith
Team:
Buffalo Bills
Position:
Defensive end
Value of card:
Outdated technology
Key 1991 stat:
One bad Photoshop cutout
Clearing up some rumors about Bruce Smith:
Bruce Smith did not use radar to track down quarterbacks. He used sonar.
This cutout of Bruce Smith is not poorly done. It just shows his blue aura.
Score is not mixing metaphors by using radar and cross hairs on this card. It actually has a contract with the Department of Defense.
Bruce Smith is, in fact, screaming "Friends! Romans! Countrymen!" while chasing down Ken O'Brien.
"Sack Attack" is not also the name of a mid-1990s adult feature. Oh, wait, yes it is.