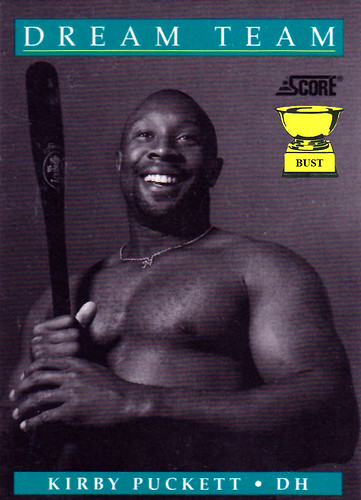 Name:
Kirby Puckett
Team:
Minnesota Twins
Position:
Designated hitter
Value of card:
Same price as that necklace: 50 cents
Key 1990 stat:
36 instances of Twin Cities streaking
Script from Acme Vending Machine Jewelry Inc.

commercial

, circa 1991:
"Think fast, baseball fans. This is Kirby Puckett, and I want to take a minute of your time to talk about Acme Vending Machine Jewelry, the most fashionable flair you can get for 50 cents. You see, I'm a big leaguer, and big leaguers like to look good — real good. So of course I want a necklace with my number on it. Sure, I had to spend $27.50 in quarters to finally get the No. 34 necklace out of the vending machine — Anybody need a charm bracelet with hearts and baseballs on it? — but, clearly, it was worth it. I'm now the most stylish guy in the locker room. Don't believe me? Let me take off my shirt. Still don't believe me? There go my pants. Think that's inappropriate? Let me show you why they call me 'Kirby.' But you don't need to be nude to get the most bling for your half-buck. Just head to the grocery store or pizzeria with a couple of quarters and twist the knob. Now you're golden.
*
This is a completely naked Kirby Puckett reminding you that at Acme Vending Machine Jewelry, we don't want to cost you a lot of green, we want our jewelry to leave some on you."
*
Note: Acme Vending Machine Jewelry is not made of real gold and therefore won't make you "golden" in the strict sense of the word. Thank you.