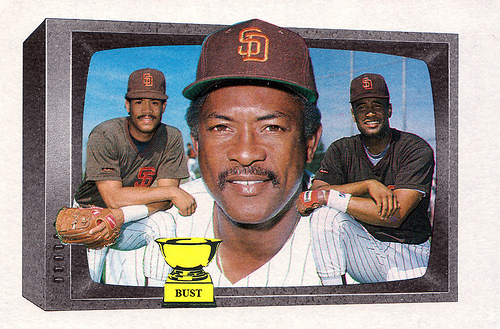 Names:
Roberto Alomar, Sandy Alomar Sr., Sandy Alomar Jr.
Team:
San Diego Padres
Positions:
Second base, coach, catcher
Value of card:
Two ants crawling on an old tube-style TV that was left by the side of the road
Key 1988 stat:
Lots of brown clothes
"TV Guide"
summary of a 1989 episode of the lowly regarded show "All Those Alomars":
"Robby and Sandy Sr. pressure Junior to grow a mustache so he can be like them. Junior refuses and proceeds to shave his whole body in defiance. Robby and his dad argue over who plays second base better, and hijinks ensue. Junior squats a lot.
The Griffeys
make a guest appearance."