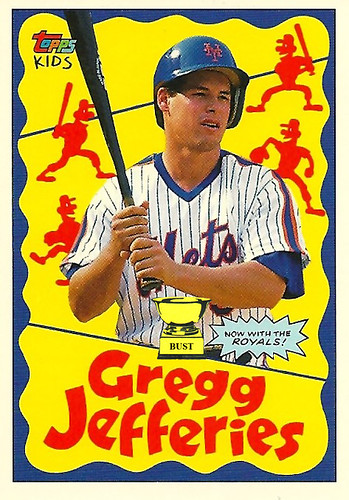 Name:
Gregg Jefferies
Team:
New York Mets
Position:
Infield
Value of card:
$20 off a plane ticket to Kansas City
Key 1991 stat:
One soul-crushing transaction
Bad news:
Sometimes, all it takes is four words to ruin your day. "We're auditing your taxes." "I'm seeing someone else." "Your blog is stupid." "Now with the Royals!" For Gregg Jefferies, those four words came on a cartoony baseball card marketed toward 5-year-olds. No one with the Mets had found the heart to tell him he had been traded to Kansas City during the 1991-92 offseason. It wasn't until a fan sent him this card to autograph, along with a note that simply said "Sorry, man," that Jefferies learned the truth. "Why is there an exclamation point?" Jefferies screamed. "Who would ever be excited about that?" Jefferies played one despondent season with Kansas City before faking his own death, changing his name to Jeff Greggeries and signing with the St. Louis Cardinals.