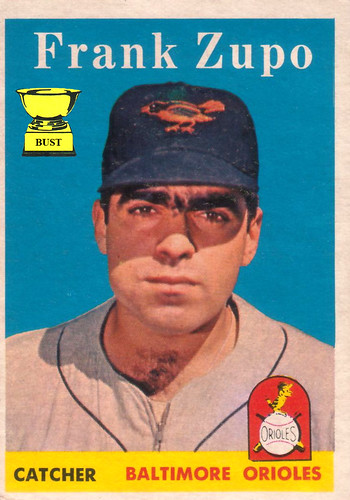 Name:
Frank Zupo
Team:
Baltimore Orioles
Position:
Catcher
Value of card:
6 ounces of Zupo-brand chew spit
Key 1957 stat:
16 guys made to, hey-oh, you know, disappear
A pretty good fella:
The feds were on Frankie Zupo's trail. He was a hardened gangster whose body count was one of the highest in New York, and he didn't hide from attention. But when he clipped a dirty copper, see, and he knew his time was up, see, he made a bold move, see: He changed his name ever so slightly, moved to Baltimore and started playing baseball. Surprisingly, some of his nicknames from his life of crime stayed with him between the diamond's lines.
A few of Zupo's nicknames:
Frankie "The Brow" Zupo
Frankie "The Monobrow Murderer" Zupo
Frankie "Two Mustaches in the Wrong Place" Zupo
Frankie "A Cat Died on My Face" Zupo
"Spanky" Frankie Zupo