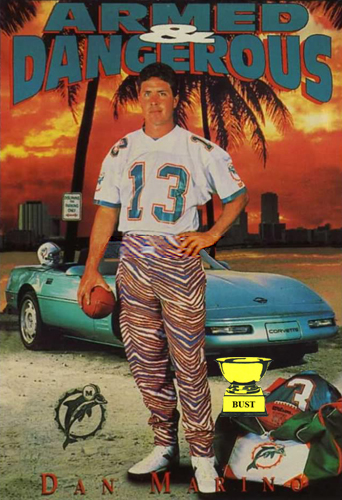 Name:
Dan Marino
Team:
Miami Dolphins
Position:
Quarterback
Value of card:
A DVD copy of Season 5 of "Miami Vice" (two discs missing)
Key 1992 stat:
One loitering ticket
Welcome to Preposterous Poster Week:
With the NFL season just days away, we've decided to take a closer look at some of the
finest
football cards we've ever seen. In the early 1990s, Skybox decided it wasn't enough to make atrocious sports cards, so it helped create a series of atrocious sports posters. As if that wasn't bad enough, Skybox then turned said posters into — you guessed it — football cards. Now we're bringing you seven of the most embarrassing images to ever decorate a 14-year-old boy's bedroom (family photos excluded). Apologies in advance.
Ways in which Dan Marino is either armed or dangerous in the above photo:
It's dangerous to leave a football helmet on the back of a Corvette. If he forgets it's there, it could fall off and get scratched.
He's probably got some guns or something in that duffel bag.
It's dangerous to cover up such beautiful Zubaz pants, which is why his jersey is so neatly tucked in.
He's armed with a special permit that lets him park on the beach, even though the palm tree clearly bans such activity.
It's dangerous to give Marino so much time without pressuring him. Unless it's the playoffs, of course.