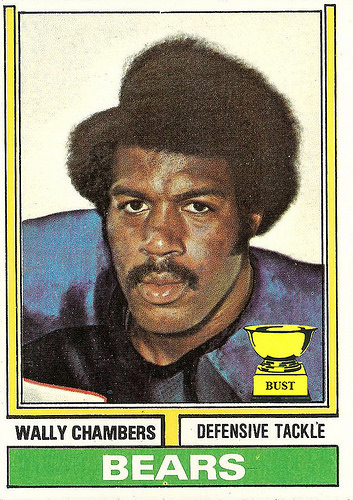 Name:
Wally Chambers
Team:
Chicago Bears
Position:
Defensive tackle
Value of card:
A pound of bear poo
Key 1974 stat:
One mean glare
Hairstyle trademark infringement:
1974 was a tough year for Wally Chambers. Expectations were high after Chambers was named the Defensive Rookie of the Year in 1973, and while Chambers' on-field performance was fine, his extracurricular issues proved a distraction. Chambers attempted to trademark his hairstyle, a hard-part afro that he called the Wally Wall
®
. Bills wide receiver
J.D. Hill
quickly filed a lawsuit, claiming the Wally Wall
®
was just a ripoff of the Hill of Hair
®
parted on the other side. The two
parters
parties settled out of court for an undisclosed amount.