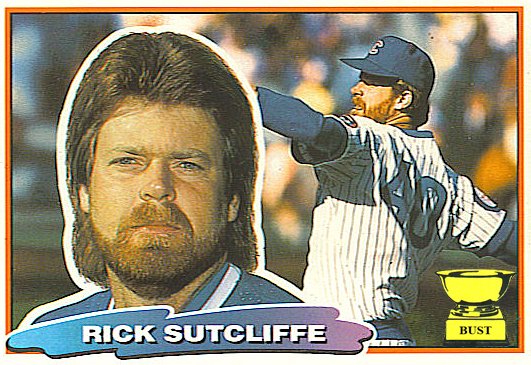 Name:
Rick Sutcliffe
Value of card:
Slightly less than a bag of mullet hair
Key 1987 stat:
Zero haircuts
A busy 1987 for Mr. Sutcliffe:
The 1984 Cy Young winner did much more than pitch in the mid-1980s, and 1987 stands as what was likely his busiest year. Going 18-10 in 237.1 innings is quite a workload, but if you factor in his hobbies, side jobs and habits, Sutcliffe couldn't have slept more than 45 minutes a night.
Sutcliffe's 1987 off-the-field pursuits:
Vidal Sassoon spokesmodel; stand-in for Kenny Rogers at strip mall appearances; hunting his great white whale, the Tennessee albino wild boar; staring; curing cancer with his tears, if he slept, which he doesn't, because he is Chuck Norris; driving a big-rig cross-country; persuading baseball card companies to be listed at 6 feet 7, when he is, in fact, 6 feet 3, minus the mullet; smoking three Marlboros at a time; glaring.