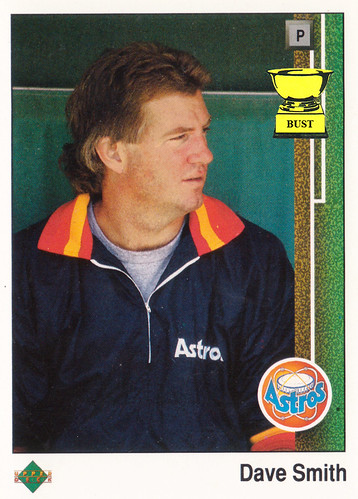 Name:
Dave Smith
Team:
Houston Astros, allegedly
Position:
None
Value of card:
Considering it's about as rare as Dave Smith's name, not much
Key 1988 stat:
Wasn't actually a professional athlete
The Legend of "Dave Smith":
1989 was Upper Deck's first year producing baseball cards, so mistakes were bound to happen. So it was that Houston Astros superfan Brian Keane ended up in the set
albeit under an alias. Keane, who had won a team contest earning him the right to sit in the Astros dugout for a spring training game, had never played an inning of baseball in his life. The Upper Deck photography team didn't know that, however. By the time the photog got to the dugout, Keane had already donned an Astros warmup jacket over his gray T-shirt. Fooled by the coat and Keane's MLB-quality mullet, the photog got some shots
of course, when it came time to match names to faces, one "player" seemed out of place. Rather than leave the man out of the set, Upper Deck workers slapped on the most generic name they could think of: Dave Smith. Keane still keeps both the card and the mullet framed in his office.