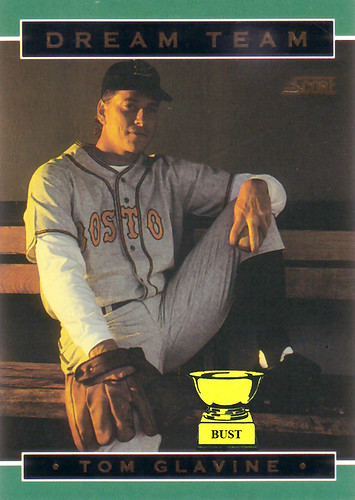 Name:
Tom Glavine
Team:
Atlanta Boston Braves
Position:
Ace
Value of card:
One ha'penny
Key 1924 stat:
Frowned upon that new style of music called "jazz"
Tom Glavine's 1920s-era Internet dating profile (yes, we know it doesn't make any sense have you been here before?):
Screen name:
Thomas Michael "Tom" Glavine
Age:
A hale 28
Height:
18 hands
Weight:
1.75 hundredweights
Hair color:
Tawny
Hairstyle:
Slicked back
Ethnicity:
American
Religious views:
Quaker
Marital status:
My parents are still looking for a match
Want children?
To pull the plow
Best feature:
Stirrups
Smoke?
Sure, the doctor says it's healthy
Drink?
And how! Er, I mean, I'm no bootlegger!
Seeking:
A classy dame
Location:
The backseat of my Model T, er, that is, Boston!
Her body type:
Corseted
Her ethnicity:
Scandalous!
About me:
I'm a simple farmer who plays ball during the dog days. I'm looking for a simple doll who isn't afraid to crank up the horseless carriage and hit the road for exotic locales like Cleveland and even St. Louis. I've caroused with my share of flappers, but I believe my speakeasy days are in the past. I'm ready to settle down with a loving bird and do the Lord's work. ... Oh, applesauce, why do I jest? I can't get enough of the hooch and the molls who come with it. Let's you and me get dolled up, get fried, and get some nookie.