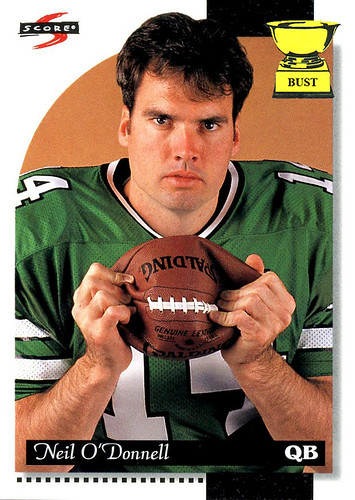 Name:
Neil O'Donnell
Team:
New York Jets
Position:
Quarterback
Value of card:
6 ounces of real pig skin
Key 1995 stat:
365 days spent in an anger-filled rage
Top 10

reasons Neil O'Donnell is so mad:
10) His arm hair is all knotted up.
9) A teammate made a joke about "Neiling" for opponents.
8) He just remembered he was playing for the New York Jets.
7) He realized he had to throw that ball during practice.
6) He's not mad; the photographer said, "Show me confused and awkward."
5) Someone disparaged mid-1990s "90210" haircuts.
4) Typical Irish temper.
3) Two hairs in his bangs are out of place.
2) He said, "I want to score," and they put him on a Score card.
1) One of his balls is being crushed.
Card submitted by

Fat Shawn Kemp