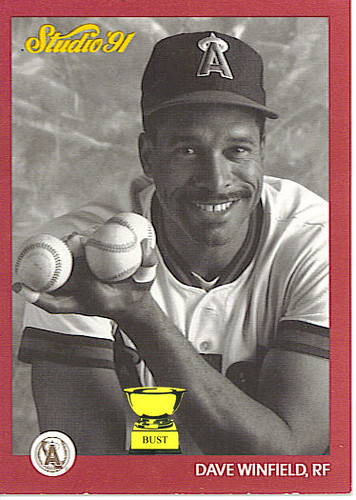 Name:
Dave Winfield
Team:
California Angels
Position:
Right field
Value of card:
One case of Rawlings baseballs
Key 1990 stat:
400
balls cupped
My, what big hands you have:
Wow, and we thought
Julio Franco
's 1991 Studio card was sexual. It turns out the Studio photographer that year was actually a disturbed 14-year-old boy in his parents' basement who had professional athletes do highly suggestive things with baseball equipment. We've now seen Winfield cupping multiple leathery balls, Franco whispering sweet nothings to his bat,
Tom Glavine
making bedroom eyes at the camera and
Eddie Murray
tickling himself. More research is needed, but we can only assume cards exist from this set featuring Roger Clemens holding handcuffs in his glove, a shirtless, oiled
Cecil Fielder
, and
Keith Hernandez
making sweet love to himself.