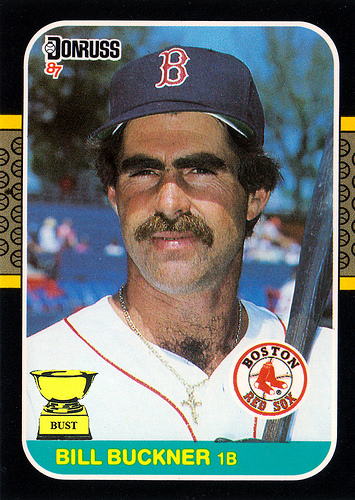 Name:
Bill Buckner
Team:
Boston Red Sox
Position:
First base
Value of card:
Priceless for Mets fans
Key 1986 stat:
1
error
; heard about it?
Here's what

Bill Buckner

stands for:
B
oston, give the guy a break.
I
t's time we moved past 1986.
L
eave him alone, for the love of god.
L
et's remember him for more than just one play, folks.
B
ro, it's getting old.
U
nder that cap is a sensitive soul in need of forgiveness.
C
an't we see this player for the man he was?
K
ind, gentle, compassionate, eyebrowed.
N
ever forget: The mustache makes the man.
E
rror aside, that chest hair is the real flub.
R
ipping on his assortment of different kinds of hair, instead of the error, is doing the man a service.