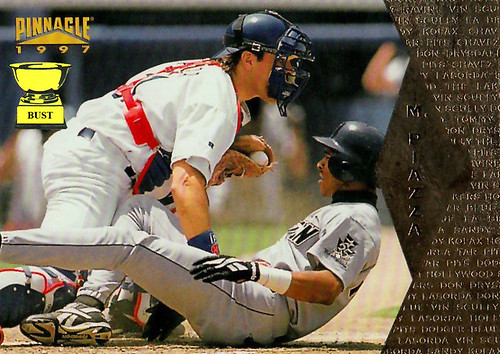 Name:
Mike Piazza
Team:
Los Angeles Dodgers
Position:
Catcher
Value of card:
3 ounces of the dirt that gets captured in the jock strap's cup pouch during a game
Key 1996 stat:
142 pizzas eaten (
Eh
, oh!)
Don't mess with

Piazza

:
Yeah, you're looking good. You're hauling tail around second, and then past third, and you're headed home. You're staring at that plate, and no one will get in your way. You can taste the go-ahead run you'll score for your team. You hustle, get down and slide toward home. And then — POW! — you get the
Piazza
special. Right in the dainty grapes. Right in the short-and-softies. Right in the soft-boiled eggs. Right in the tender 'ronis. Right in the oval oysters. Right in the man guts. Yup, for Piazza, the count is always two balls, one strike.