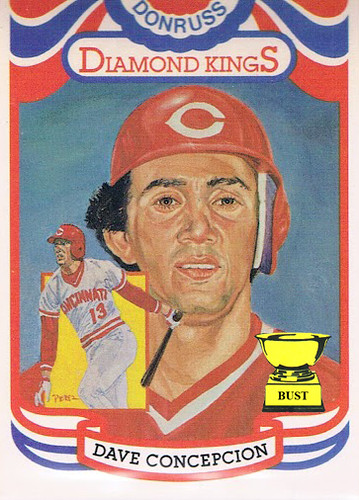 Name:
Dave Concepcion
Team:
Cincinnati Reds
Position:
Shortstop
Value of card:
11 flakes of cigarette ash
Key 1983 stat:
Zero minutes hanging in a museum
Welcome to Dream-Haunting Diamond Kings Week:
Once again, we'd like to apologize. We've brought you
Atrocious
Diamond Kings,
God-Awful
Diamond Kings,
Dreadful
Diamond Kings,
Horrendous
Diamond Kings,
Disturbing
Diamond Kings and Diamond Kings we just had to
apologize for
. But now, our
greatest
latest set of Donruss'
premier
only painted subset: Diamond Kings that are so frightening, they'll haunt your dreams. Enjoy!
Don't fall asleep:
You may be getting tired, but we'd stay away from bed. You never know when "Crazy Eyes" Concepcion might be lurking in the shadows, ready to render you unconscious with the chloroform-soaked rag tucked into his batting helmet. Concepcion might have been slick in the field, but he was slicker when covered in the blood of his victims, especially after he wore the "Texas Chainsaw"-style flesh mask pictured above. Consider yourself forewarned: Don't sleep on this Diamond King.