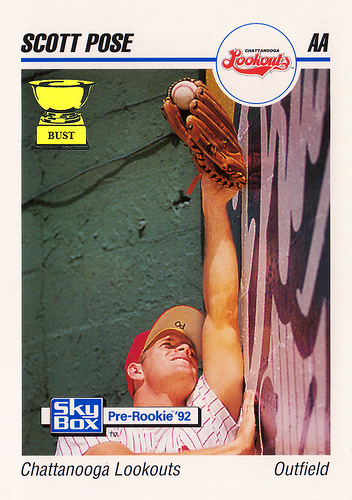 Name:
Scott Pose
Team:
Chattanooga Lookouts
Position:
Outfield
Value of card:
A box full of nothing but sky (that is, air)
Key 1991 stat:
Never convinced anybody of anything
Get your story straight:
This Scott Pose card is as confusing as it is worthless. Here are just some of its contradictions:
The guy's name is Pose, but this is clearly a live-action shot of him crashing into the wall right?
He plays for the Lookouts, but he clearly wasn't looking out for his own dignity when agreeing to this shot.
This photo was purportedly taken in Chattanooga, but, given the exposed wiring and crumbling masonry, that sure looks like the Oakland Coliseum to us.
The card says he's a "pre-rookie," but we all know that's not actually a thing.
Card submitted by Al Filipczak