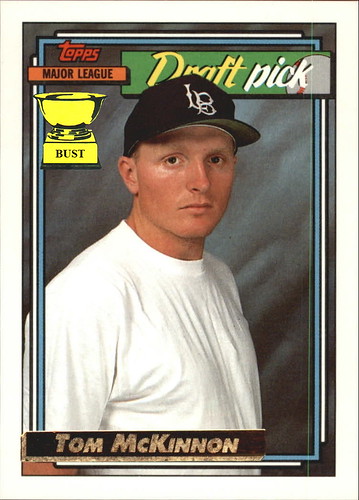 Name:
Tom McKinnon
Team:
Long Beach Whiteshirts
St. Louis Cardinals
Positions:
Pitcher,
soon-to-be designated hitter
Value of card:
One unwashed undergarment
Key 1991 stat:
Never smiled
Fun facts about Tom McKinnon and some guy you could pull off the street:
Some guy off the street would likely be better-dressed for photo day.
Some guy off the street might also have had a chance at posting a 3-to-43 walk-to-strikeout ratio while batting in 1994.
Some guy off the street probably had a high school picture taken with that same backdrop in the 1990s.
Yeah, well, Tom McKinnon smashed 16 homers and made the all-star team in the independent Big South League in 1996! In your face, some guy off the street!