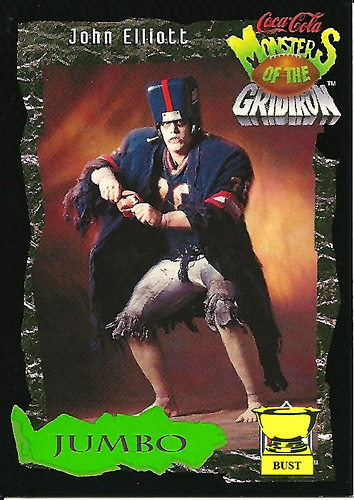 Name:
John "Jumbo" Elliott
Team:
Boo York Giants
Position:
Offensive tackle
Fright value of card:
Two bare feet
Key 1994 splat:
One tiny football crushed
Memorable moments in creativity:
Another excellent job from the Coke costume designers in this remarkable set of cards. There's a lot to like here — the oversize square helmet with no facemask, the tiny, smashed football, the tattered overcoat with Jumbo Elliott's number on it. But you know what's not excellent? The effort from the writing staff. Jumbo? Really? No one knows who John Elliott is because, to football fans, he was known only as Jumbo Elliott. How is that a monster name? Why not just have Pat Swilling's monster name be Pat? I can see the writing crew sitting around a table at the end of a long night of looking at dozens of cards,
shotgunning
cans of Coke in an effort to avoid crashing from an hours-long
sugar high
, and deciding, "Screw it. We can't top 'Jumbo.' Let's go home."