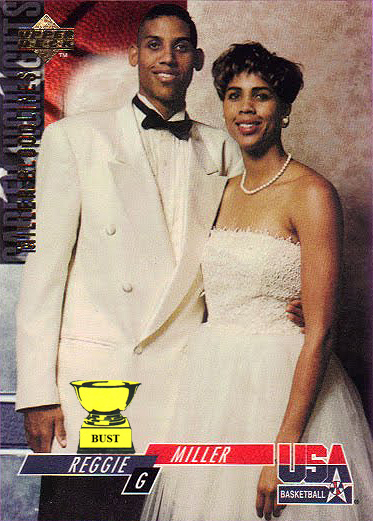 Names:
Reggie and Cheryl Miller
Team:
Team Saddest Prom Night
Positions:
Guard, forward
Value of card:
As much awkwardness as you can fit in a photo
Key 1994 stat:
Endless chants of "Cheryl's better!"
It's another family Matchup:
Round 1:
Awesome haircut (Winner: Cheryl)
Round 2:
Jacket big enough for the whole family (Winner: Reggie)
Round 3:
Looks completely comfortable (Winner: Tie
neither)
Round 4:
Got along better with Spike Lee (Winner: Cheryl)
Round 5:
Worked with a guy nicknamed the
Dunking Dutchman
(Winner: Reggie)
Round 6:
Less dorky (Winner: Cheryl, barely)
Round 7:
More likely to survive being hit by that basketball-shaped meteor (Winner: Cheryl)
Final score:
Cheryl 4, Reggie 2 (Ties: 1)
Synopsis:
Reggie may have once scored
8 points in 9 seconds
, but he wasn't quick enough to beat his sister today. Once again, Mr. Miller, Cheryl is better.