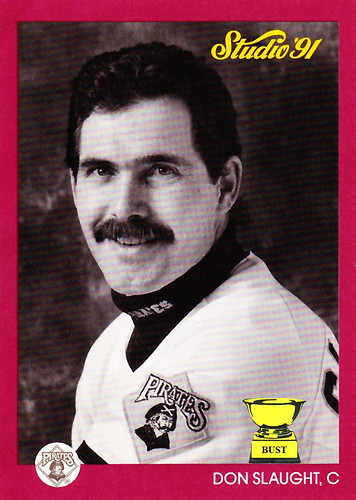 Name:
Don Slaught
Team:
Pittsburgh Pirates
Position:
Catcher
Value of card:
$10 for 10 minutes
Key 1990 stat:
1,941 "jobs" in one year
10 things about Slaught that would be true if you took out the "A," "G" and "H" from his last name:
10) For an extra $5, he'd wear only the turtleneck.
9) He would spend his days on the ball field, but his nights would be at
The Blue Oyster
.
8) He would call his mustache "Davy Jones' Locker."
7) His hairy legs would look amazing under a spandex miniskirt and knee-high boots.
6) After years on the streets, he'd have an unmentionable peg body part.
5) He would dress like his team's mascot and strut down The Strip.
4) He would have a Friday night "battery mate" special.
3) Despite his profession, he'd have a heart of gold.
2) He would own a parrot. A naked one.
1) Catching? he would ask. How much?