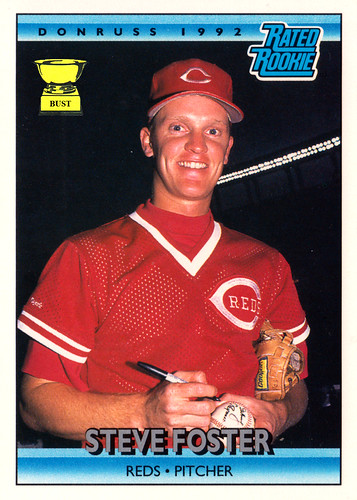 Name:
Steve Foster
Team:
Cincinnati Reds
Position:
Pitcher
Value of card:
A chewed pen cap
Key 1991 stat:
Multiple shirts worn at all times
Autographs signed by Steve Foster (as far as you know):
"To Sarah: Thanks for pointing out that my face is as red as my jersey. We can't all be as pale as you, you brat."
"To Brian: It sure is dark out here. Please don't kill me."
"Dear Charlie: No, rookie hazing does not involve 'servicing' Marge Schott or her foul dog. That's disgusting."
"To Juliet: Your name is from Shakespeare, right? But soft, what light above my left shoulder breaks? It is a UFO, and we're all going to die."
"Dear Jimmy: Hold on, I need to mug for the camera real quick."