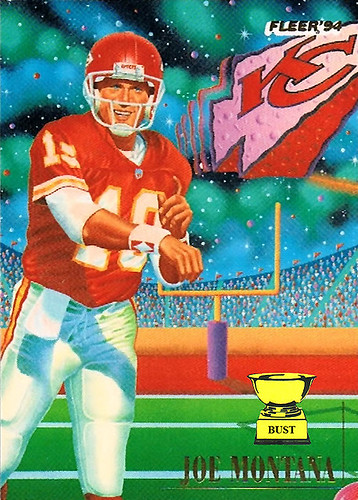 Name:
Joe Montana
Team:
Kansas City Chiefs
Position:
Quarterback
Value of card:
One end zone seat approximately half a mile from the field
Key 1994 stat:
104 pounds of delicious barbecued meat eaten
Ummmm:
Why is
Joe Montana
so happy?
A) Because he just threw a wedge of Swiss cheese shaped and painted like the Chiefs logo.
B) Because it's raining
Gobstoppers
.
C) Because he's delighted that the shadow of the goalpost is falling in a completely different direction than the shadow of his arm.
D) Because that little half-size upright is hilarious.
E) Because the artist who drew this card shared some of what he was
smoking
.