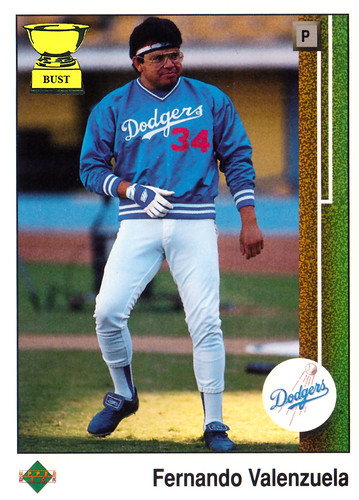 Name:
Fernando Valenzuela
Team:
Los Angeles Dodgers
Position:
Pitcher
Value of card:
6 pesos
Key 1988 stat:
2,197 instances of
"Fernandomania"
(in his own home)
"Fernandomania"

spiced up L.A. in the mid-1980s; here are examples of

"Fernandomania"

in the late 1980s:
A chicken-legged pitcher performed a one-man line dance on a baseball field.
The one pair of blue cleats in Los Angeles sold out.
Nearly eight people in the United States and Mexico started wearing headbands and old-man glasses.
The Latino Elvis Impersonators gained a member — and two fans.
A man in a blue jacket and tight white pants was arrested for leering at women at Dodger Stadium.