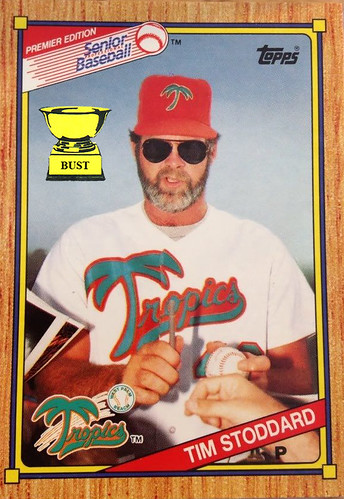 Name:
Tim Stoddard
Team:
West Palm Beach Tropics
Position:
Pitcher
Value of card:
One arthritic hip
Key 1989-90 stat:
Zero autographs actually requested from this guy
Top 10 possible explanations for this bizarre card:
10) It's promotional material for "
Weekend at Bernie's
3: Dead on the Diamond."
9) It's an actual dead man being propped up for entertainment purposes.
8) It's one of those things that you stand behind and
place your head in the cutout
for photos.
7) Considering his hands are as big as his head, it must be George "The Animal" Steele in disguise.
6) It's concept art for the unwanted sequel to "
Semi-Pro
."
5) Topps was just putting its surplus of
wood-grain framing
to good use.
4) Oh, like
you
don't have glossy photos of Tim Stoddard that you're just dying to have autographed.
3) It's entirely possible that this is a photo of Tim Stoddard burping while sleepwalking.
2) It's just a cheap rip-off of this
Al Hrabosky
card.
1) Clearly, this was the liveliest photo from the entire
Senior Professional Baseball Association
season.
Card submitted by Sean Griffin