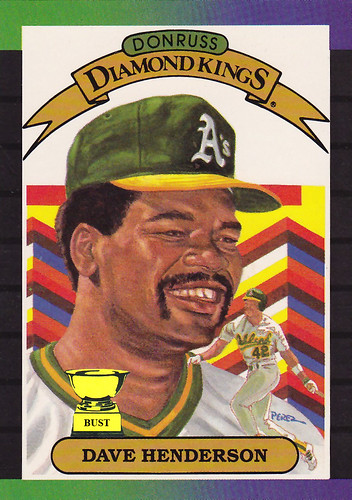 Name:
Dave Henderson
Team:
Oakland A's
Position:
Outfield
Value of card:
Cold ramen broth
Key 1988 stat:
Constantly hungry
Actual conversation between giant Dave Henderson and tiny Dave Henderson:
Tiny Hendu:
"Hey, where'd my mustache go?"
Giant Hendu:
"I'm going to eat you!"
TH:
"Holy Jeebus, it's a giant me!"
GH:
"Here I come, comin' to eat you!"
TH:
"Ah, crap. Maybe I can blend into the background? Um, never mind. Christ, there are enough colors there to make Skittles. ... Wait, maybe ...
(Scurries around behind Giant Hendu).
Hey, over here, dummy!"
GH:
(Turns around, facing hideous background)
"Arrrrrrggghh! Hendu's eyes — burning! Can't see! Blinded by multi-colored arrows! Arrrghhh!"
(Trips and falls)
TH:
(Stabs tiny bat into Giant Hendu's eye, killing him)
"Take that, you big freak! You ain't gonna eat nothin'! ... And give me back my mustache!"