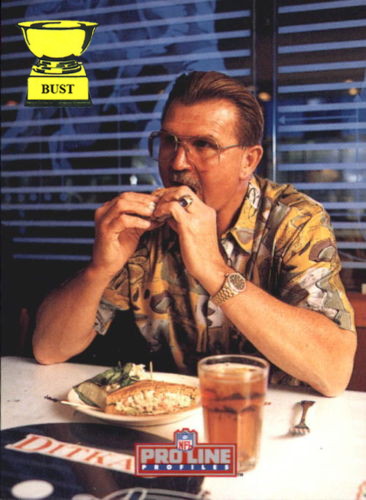 Name:
Mike Ditka
Team:
Chicago Bears
Position:
Coach
Value of card:
$1 off the blue-plate special
Key 1992 stat:
14 pounds of sauerkraut consumed
It's time to steady your stomachs for another Bust recipe:
Ditka's is an actual chain of restaurants owned by the actual Mike Ditka. It's got a pretty good reputation, but thankfully no longer serves the Big Tuna Salad Sandwich, pictured above and named after fellow coaching legend Bill Parcells. Here's how you, too, can try that dish:
2 cans of tuna in oil
2 cans of tuna in water
1 tuna steak
1 spicy tuna roll
1 pair of Bill Parcells' dirty boxers
1 picture of
Al Toon
4 pounds of mayonnaise
2 slices of white toast
4 ounces of grass from your yard
Make a salad from the grass
don't worry; if you want this dish, odds are you don't eat salad anyway. Then mix all the other ingredients in a large bowl. Pour the mixture into a large skillet, then throw away the bowl. Cook over low heat for 3 hours or until the mayonnaise becomes pungent. Serve on toast, incinerate the excess and throw away the skillet. Enjoy!