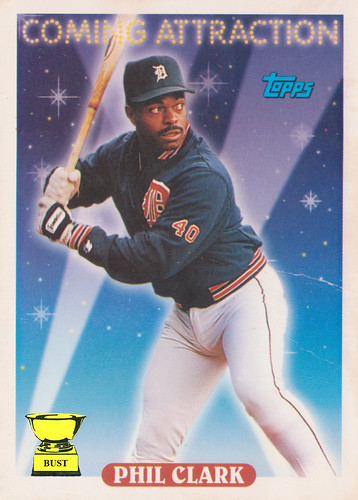 Name:
Phil Clark
Team:
Detroit Tigers
Position:
Outfield
Value of card:
Those creases would devalue the card if it weren't already worthless
Key 1992 stat:
Three burnt-out marquee lightbulbs
Tigers' scouting report on "coming attraction" Phil Clark:
"This guy's like a movie star; he's good at 'acting' like he can play. ... We like the 'stache, but want to see it connect to a set of
lamb chops
. ... His name is 'Phil'; well, he sure can 'Phil' a cup, if you know what we mean. ... Not sure about taking batting practice in a skin-tight jacket, but we do foresee hipster scumbags fighting over it 19 years from now. ... By the looks of things, it's not the first time the spotlight has been on his bulge. ... Don't worry, there's no chance he'll steal a nickname and become Phil
'The Thrill'
Clark. ... Coming attraction? Doesn't appear to be in the stars."