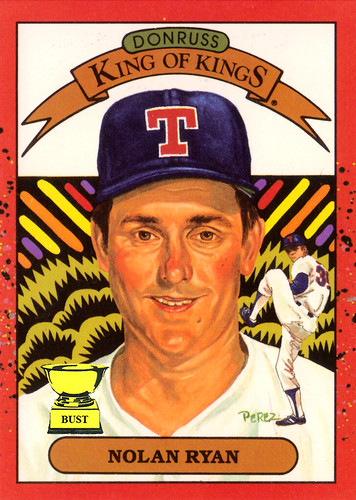 Name:
Nolan Ryan
Team:
Texas Rangers
Position:
Ace
Value of card:
A Burger King french fry that has fallen on the ground
Key 1989 stat:
One crowning achievement
Bow down before the one you serve:
In 1990, Donruss granted Nolan Ryan what is truly the greatest honor in baseball history: Donruss King of Kings. (Not to worry
they kept pumping out regular old
Diamond Kings
for several more years.) With the distinction came a handful of benefits such as golden bolls of cotton, multicolored laser beams and a small painting of himself looking kind of like Tim Robbins in "Bull Durham." But, going by the above larger, more stunning portrait, what should the King of Kings' historical nickname be? Here are some options.
King Nolan the Broken-Nosed
King Nolan of Two Chins
King Nolan the Slightly Wall-Eyed
King Nolan the Rosy-Cheeked
King Mole-an