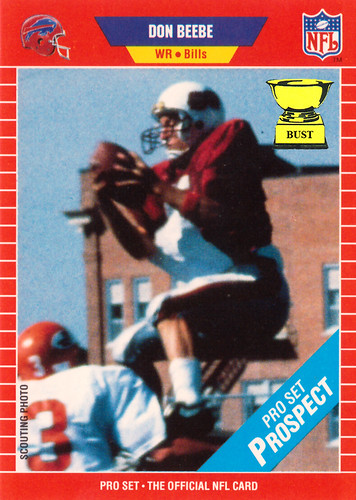 Name:
Don Beebe
Team:
Buffalo Bills
Position:
Wide receiver
Value of card:
Prospecting for gold (up your nose)
Key 1989 stat:
Didn't
fall on head
(yet)
It's a Football Friday rant:
Oh, bravo, Pro Set. It was so important to get young Don Beebe in your 1989 edition that you had to reach out for a third-party photo, was it? Only, rather than track down a quality picture of the young receiver, you acquired what appears to be a lost image from the
Zapruder tape
and slapped it on this piece of cardboard. Thankfully, you credited it as a "scouting photo," lest we be concerned that your
oh-so-rigorous standards
were slipping. Congratulations, gentlemen, your focus on quality is as sharp as ever.