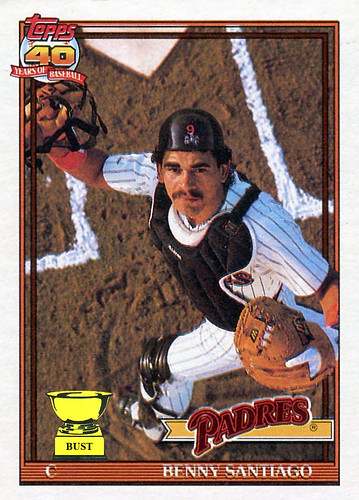 Name:
Benny Santiago
Team:
San Diego Padres
Position:
Catcher
Value of card:
2 ounces of baseline chalk
Key 1990 stat:
3 pounds of mustache hair
Top 10

things

Benny Santiago

could be looking at:
10) A seagull about to deposit a lil' somethin' somethin' on his forehead.
9)
Tony Gwynn
floating above Jack Murphy Stadium.
8) A scoreboard showing, unsurprisingly, that the Padres were trailing.
7) He's not looking at the sky; he's in the middle of an interpretive dance routine.
6) The lights of the Goodyear blimp, and it read Benny Santiago's a pimp.
5) His soul escaping out of embarrassment after he agreed to pose for this card.
4) The
San Diego Chicken
taking his job a little too seriously.
3) A popup ... that's now on the ground.
2) The jheri curl mullet juice that flew into the air when Santiago whipped off his mask.
1) A self-satisfied Topps photographer balancing on a ladder.